A LITTLE BIT ABOUT US
We are a small, family run operation located in Delta, BC. We offer shipping for all orders placed on our website but, if you live in the area, you also have the option to pick up at no additional charge. You can select this option at checkout. If you opt to pick up your order, you will receive an email with details when it is ready.
FAIR TRADE - CERTIFIED ORGANIC - SHADE GROWN
Our wholesale supplier for organic coffee has established a relationship with coffee growers around the world and has eliminated the numerous middlemen. Most of this coffee is certified organic, meaning that no herbicides or pesticides are used in the cultivation of the coffee. All of the coffee is certified fair trade, meaning that farmers are paid a fair price for the coffee so that they can continue to practice sustainable agricultural practices. All of the coffee is certified biodiverse or shade grown. This means that the coffee is grown in the forest, not where the forest used to be.
Organic coffee comes at a premium compared to conventional green coffee beans. However, in the end it is less expensive than store bought shade grown and fair trade coffee, and very likely, better quality because you know when it was roasted. And you will know that you are doing your little part in protecting the global ecosystem. Every little bit really does help.
The coffees we offer have passed our taste tests. We are not coffee professionals, we only know what we like. We have eliminated several coffees that we have tried, simply because we didn't like them and we don't want to sell anything to our customers that we wouldn't enjoy. We want you to come back.
FARMERS FIRST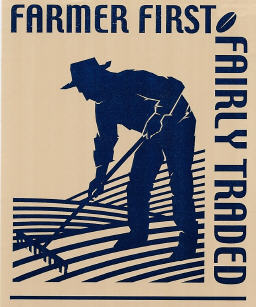 Coffee has been cultivated throughout the world for centuries. Massive coffee consumption has resulted in cultivation practices throughout the world that are either not sustainable or are detrimental to local tropical plant and animal species or to migratory species that rely on tropical forests.
The Fair Trade campaign is designed to provide a living wage to coffee growers so that they can cultivate coffee in a sustainable manner. It is more expensive to organically cultivate coffee and without Fair Trade, these farmers can't compete within the conventional coffee market.
The Farmer First logo was created by coffee roasters and like-minded importers, defining whom and what Fairly Traded is truly all about.
Farmer First coffees are purchased from long-established cooperatives, family farms and ethical importers who share in our concern for social and environmental issues. Many of these coffees are purchased from cooperatives listed on the FLO (Fair Trade Labeling Organization) Registry.
Farmer First coffees are all grown under a shade canopy, supporting hundreds of species of birds and wildlife. Organic and bird friendly certifications are important factors in increasing the price farmers are able to get for their coffee.
Fair trade is a state of mind, with the intent to create beneficial trading relationships with disadvantaged coffee farmers. It is not a set of rules that can be determined and written down. Farmer First seeks to establish and strengthen supportive and cooperative bonds between trading partners.
Questions? Send us an email.